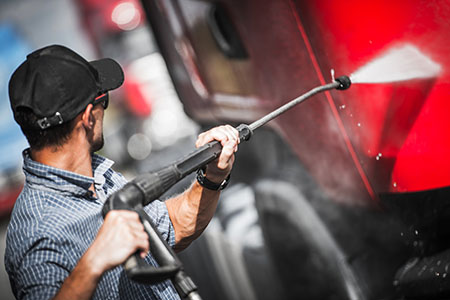 Let the experts at Polished 2 Perfection provide you with the best truck cleaning in Saint John, NB. At Polished 2 Perfection we perform our expert detailing works on a variety of vehicles. In addition to smaller vehicles like motorcycles, cars and more; we also specialize in all types of trucks. We definitely deliver much more than your average truck wash. Our process details your truck, no matter what size it is, with an extreme attention to detail and no part of your vehicle left untouched. We especially enjoy working on the biggest rigs and transport trucks.
The operation at Polished 2 Perfection is able to handle a high volume of commercial fleets in a smooth and efficient manner to keep your operation looking impressive without you having any unnecessary down time. We especially understand that our commercial clients depend on their trucks for their livelihood. For this very reason we have designed a system that gets your truck detailed, cleaned and back to you in the quickest possible time frame.
Along with your rigs cabin we also pay attention to its trailer maintenance and perform all necessary works to make sure it's in perfect order. So whether you are an organization with a multiple number of vehicles or a personal owner/driver of your own rig – you can depend on Polished 2 Perfection to take good care of you.
The same care that we provide to our big rigs we apply to all varieties of trucks and SUV's. Exteriors and interiors are cleaned with attention being paid to every detail. For the exterior you will be sure to have your wheels cleaned and polished. Once your vehicle dried we are able to polish and buff the paint job and do any further work that is needed depending upon the condition. Interiors are also given all the love that they deserve. Seats are shampooed as well as the carpets. Unless your interior is leather in which case you can expect to have the best leather conditioned seats. Your headliner will get detailed attention, which goes a long way to make your interiors look brand new.
Don't trust anyone else with your precious truck – be sure to bring it to Polished 2 Perfection.